Professional Coin Grading Service: One of the two top coin grading services in the industry. PCGS is known for their reliability and guarantees the grade and authenticity of every piece certified. JMS Coins is an authorized PCGS Dealer.




Numismatic Guaranty Corporation: The second of the two top grading services in the industry, NGC, too, is trusted for their reliable grading, which is guaranteed for every graded coin. JMS Coins is an authorized NGC Dealer.




American Numismatic Association: The ANA is the nation's largest coin club, Congressionally chartered in 1891. Located in Colorado Springs, CO, the ANA runs a show each spring and summer and hosts two one-week sessions of the Summer Seminar ("coin camp") each summer. Dedicated to spreading the hobby of numismatics, along with knowledge, the contents of the ANA's massive library are available to any member by mail, and numerous learning activities are sponsored by the ANA year-round. James Sego is a 20+ year member.




Heritage Auction Galleries: Located in Dallas, TX, Heritage is the largest coin auction gallery, holding auctions at every major show and doing hundreds of millions of dollars in business each year.




Collectors Corner: Collectors Corner is where the top dealers all meet online. With thousands of coins available, it's like a coin show on your computer.




Sonny Henry's Auction Services: Located in Mendota, IL, Sonny Henry's Auction Services is one of the best regional coin and currency auction house in the country. Sonny's auctions draw from the entire midwest and provide the true collector with a wide variety of material. Sonny is also very active with the ANA, providing auction services for the Young Numismatists auctions. Whether buying or consigning think of Sonny Henry's Auction Service for that personalized touch!




Toned Coin Collector's Society: Founded in 2004, TCCS is a society designed to spread knowledge and the love for toned coins. With meetings at major coin shows, as well as an active message board, there is always a chance to show off beautiful new pieces or ask questions. Many major toned coin dealers and collectors are proud members of TCCS, and welcome your involvement.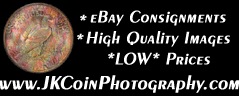 JK Coin Photography and Consignments: JKCP is a small business devoted to high quality images of coins and professional online consignments at low rates. Photography services can be used to share images online, for insurance purposes, or to have your collection "at hand" even when locked away in a bank. JKCP also offers online auction consignments (eBay) at low rates.